The 76ers Retire Moses Malone's Jersey, and Include All of his Teammates Per His Request
Last night, the Philadelphia 76ers raised a banner signifying the retirement of jersey #2 worn by three-time MVP
Moses Malone
but the banner is different from most, if not all, retired jersey banners: per Malone's request, the banner includes the names of all 48 of his Philadelphia teammates--not just the members of the 1983 NBA championship team, but every single person who played for the team during his five seasons with the organization (1983-86, plus a curtain call in 1994). The 76ers also
honored Malone with a statute placed on their Legends Walk
near their Camden, New Jersey practice facility. Other 76ers who have been honored with Legends Walk statues are Wilt Chamberlain, Billy Cunningham, Hal Greer, Julius Erving and Maurice Cheeks
Here is a picture of the banner, and a picture of the statue, with (left to right) Bobby Jones, Julius Erving and Allen Iverson among those present to pay tribute to Malone.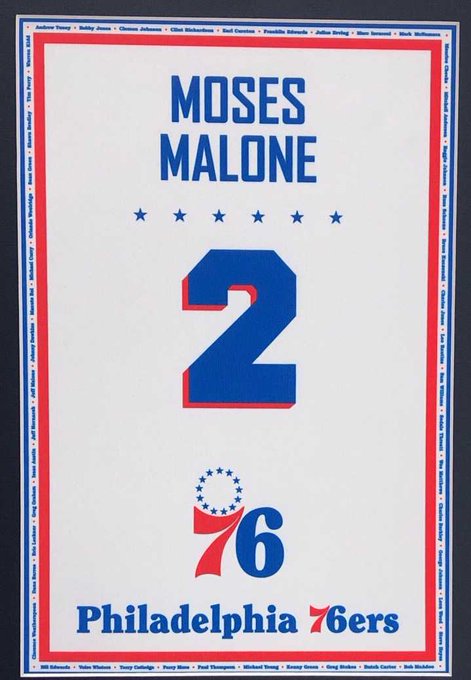 Malone passed away in 2015 but he would be happy that the team remembered and honored his one condition about his jersey being retired. Malone's request speaks volumes about the kind of person and teammate he was.
Michael Lee wrote a nice story about Malone's career and the ceremony
and some of the quotes in that piece provide meaningful context about one of the most underrated great players of all-time. His Philadelphia Coach,
Hall of Famer Billy Cunningham
, said, "Moses Malone is as smart a basketball player that I've ever been around."
Pat Williams, the general manager who brought both Julius Erving and Moses Malone to Philadelphia,
described Malone's style of play: "He wasn't beautiful. He wasn't graceful. He just outworked people. Out-hustled them. Went after every rebound. Never backed down. And we haven't seen that type of player ever again, probably never will." Maurice Cheeks recalled Malone's sense of humor; after a game during which Cheeks only made one shot, Malone quipped that he should have at least made two so that people would not assume that the one was just a lucky shot.
Unlike many of today's superstars who incessantly seek out the spotlight and demand that they are recognized as "The Man," Malone--the reigning (1982) MVP joining a Philadelphia team led by the previous (1981) MVP Julius Erving--quashed any hint of that nonsense with a simple, direct statement: "This Doc's team." Malone deservedly won the 1983 regular season MVP and the 1983 Finals MVP as the 76ers rolled to 65-17 regular season mark and then went on a record-setting 12-1 playoff run, but Malone let his play speak for itself as opposed to running his mouth. Malone and Erving each earned All-NBA First Team honors, and Erving finished fifth in MVP voting. They provided the blueprint for the way that two all-time great players should share the spotlight and the glory while leading their team to the top; it is a shame that they did not get paired together a few years earlier (Erving turned 33 during the season that Malone joined the team) or they might have won several championships in a row. Instead, they enjoyed one dominant season together, plus a strong push to the 1985 Eastern Conference Finals that ended with a defeat at the hands of the younger Boston Celtics, who were in the midst of a run of four straight NBA Finals appearances.
For a variety of reasons that fall outside the scope of this article, it is difficult to determine which basketball team is the greatest team ever but Philadelphia's
1983 championship team takes a back seat to no single season squad in pro basketball history
; that does not mean that they are definitely the best, but it means you cannot point to a single team that is clearly better.
Malone was the dominant force on that dominant team, along with the incomparable Erving, and it is fitting that the 76ers honored not only Malone's greatness but that they did so in keeping with his wish to recognize all of his teammates as well.
Labels: Andrew Toney, Bobby Jones, Clemon Johnson, Clint Richardson, Earl Cureton, Franklin Edwards, Julius Erving, Marc Iavaroni, Mark McNamara, Maurice Cheeks, Moses Malone, Philadelphia 76ers, Reggie Johnson
posted by David Friedman @ 1:25 PM